If we talking about Horizon or Virtual Desktop Infrastructure VMware has a strong portfolio which not all of you probably aware of.
First of all, I will clear up some misunderstanding with regards to Horizon Cloud Service vs. VMware Cloud.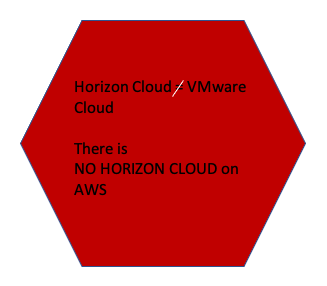 What is the difference?
In VMware Cloud is an Infrastructure-as-a-service (IaaS) offering. VMware Cloud on AWS for instance is around infrastructure (Software defined datacenter – SDDC), the whole VMware vSphere, NSX and vSAN platform based on the bare metal infrastructure of AWS cloud which can additionally integrate AWS native services. Of course you can integrate or install VMware Horizon on that infrastructure.
Horizon Cloud Service is the Desktop-as-a-Service (DaaS) platform. That means you can consume the desktop session itself directly from the cloud. Why that is important? There is a much difference in the cloud offerings regarding the responsibility for Hardware, the SDDC, Horizon Infrastructure and the desktop & apps.
In this article I will focusing on Horizon Cloud on Azure.
Infrastructure and architecture
A very important point is you can choose from which location you want to manage your environment(s). You can request a specific instance for that. That instance is where your management UI will be running from.
The benefit of Horizon Cloud Service is that it´s of course cloud hosted but multi tenant capable as well. The architecture is based on Micro-service and therefore built for global scale from the base.
Now let us take a look to the architecture and the components.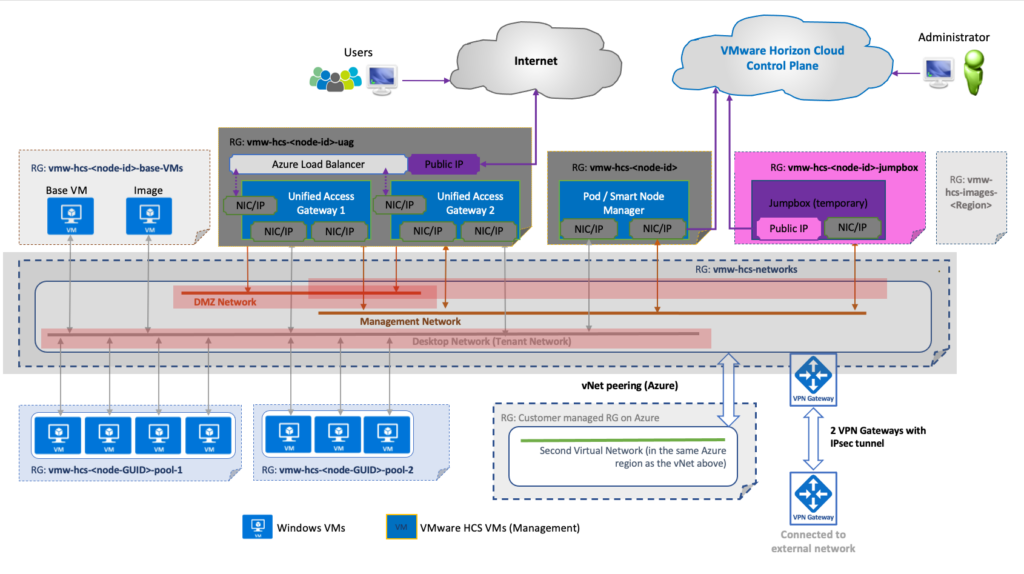 But where I find what in the architecture?
Here an overview of the architecture with an agenda below with the different components.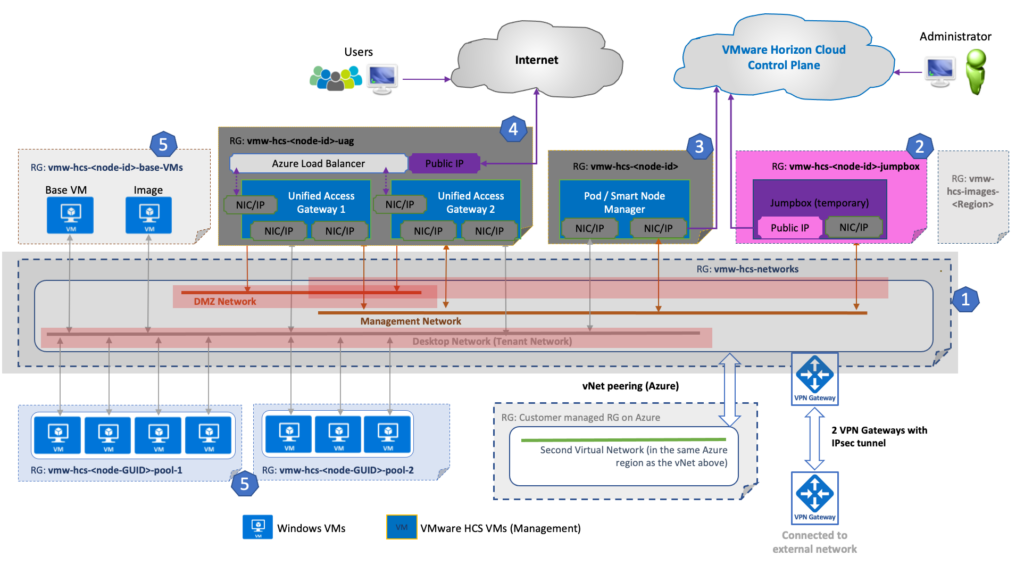 Microsoft Azure subscription, vNet and Subnets
Temporary jumpbox
Pod
Unified Access Gateway (UAGs)
Images, application stacks, entitlements, Power management, connectivity to on-premise
In VMware Horizon Cloud on Azure the customer provides the Azure subscription. It´s a bring your own subscription approach. The Jumpbox is temporary because it´s only used to deploy the environment and afterwards it will be deleted. That prevent consumption for that component which is not necessary after the initial deployment.
Why should I use it?
You will ask yourself why to use VMware Horizon Cloud on Azure and which benefits you will get from that.
Sure, there is the offering from Microsoft for Windows Virtual Desktop (WVD) which is Azure based as well. There are a lot of benefits you will get with Horizon Cloud in Azure on top of that.
Horizon Cloud on Azure provides you the same functions and capabilities as WVD but add several features to it. To be clear here, Windows 10 Enterprise Multi Session and Windows 7 with free ESU (extended security updates) will only be provided native on Azure. But all other capabilities are given in Horizon Cloud in Azure as well.
On top of that, customers get´s the Horizon Cloud Service Control Plane and within that:
Cloud monitoring service
Workspace ONE Access
Universal Broker (see below)
Blast Extreme and PCoIP
App Volumes
Dynamic Environment Manager (DEM)
Hybrid environments
Agent auto-update
Advanced Power Management
Central UI for the most management tasks
Universal Broker or Single Pod Broker
In general you have two options for the Broker, Universal Broker as mentioned above and the Single Pod Broker.
Universal Broker is available only if you have deployed all your Horizon Cloud pods at pod manifest 2298.0 or later. If you deployed any of your Horizon Cloud pods at earlier than pod manifest 2298.0, Universal Broker is not an available broker option and Single-Pod Broker is used as the default.
Regarding the choice of a Broker please be aware of the following.
Warning: Once you select and enable a broker, that broker becomes a permanent, irreversible, and tenant-wide setting for the specified pod type. For example, if you enable Universal Broker for your Horizon pods, Universal Broker becomes the broker for all Horizon pods across your tenant account and cannot be changed.
If you has chosen one of the broker and wants to change the "standard / permanent" you have to open a ticket at VMware and then you start from scratch.
There is a very detailed explanation in the VMware docs here about the different broker.
Upgrades
The Horizon Service provides a simple upgrade feature.
In general the Cloud plane will be upgraded weekly and the Pods itself quarterly. For the Pod upgrades the customer gets a notification in the UI for the availability of the update and can schedule it. It takes around 5 minutes to migrate.
The Blue / Green approach for the upgrades has the benefit of no downtime which is necessary. You get a clean Pod and only the metadata will be migrated.
Cloud monitoring and Helpdesk
If you use a cloud service it´s important to have a good monitoring but can provide support to your users / customers as well. Two capabilities here and the benefits.
Capacity dashboard charts will provide you information regarding applications which the users are using. That means as well which applications will be used within the virtual desktop. The diagnostic tools which are available for the virtual desktop and RDSH gives you the capability to provide remote assistance to your users in troubleshooting scenarios. If you will hover over the dashboard items you will get historical data in addition to the current one. metrics will help you to find the right information in a short time. Some information are User and Desktop mapping, Desktop health and utilization. In a hybrid or Multi-Cloud scenario you can choose which Pods you will integrate in the analyses.
1350 Total Views
2 Views Today