That to answer is not easy in the first step because it depends on where you are and where you want to go.
I will describe an example which I usually see in my projects, VMware Horizon on-premise as the given infrastructure and want to start with Horizon Cloud on Azure for what ever reason and Use Case.
At the beginning you have to connect your on-premise Horizon environment (Pod) with Horizon Cloud service which makes several steps necessary.
You need a My VMware Account which is required for:

Get the subscription license (Horizon universal license)
Login to the Horizon Cloud Management Console
Setup the Cloud connector and pairing

Purchase a VMware Horizon subscription license / Universal license
Download the Horizon Cloud connector virtual appliance

Link will be provided by VMware through a license subscription welcome email
This welcome email includes the link to the Horizon universal console and online documentation as well

Install the virtual appliance in your on-premise environment and power it on
Verify the health status of your Pod components and services (run precheck.sh script)
Use the Cloud connector onboarding workflow which will pair it with your on-premise Connection Server and the Horizon Cloud Management Plane

The Cloud connector have to reach both the Connection Server of your on-premise environment and the Horizon Cloud Management Plane.
For the paring and successful operation specific requirements are necessary regarding DNS, Firewall ports and protocols.

Now the Cloud Management Plane can manage your on-premise environment and the other cloud service for the Pod.
A little high level overview of the Service and what the pairing is about. If you have multiple Connection Servers in your environment, the Cloud connector is only paired with one of the Connector Servers at any given time!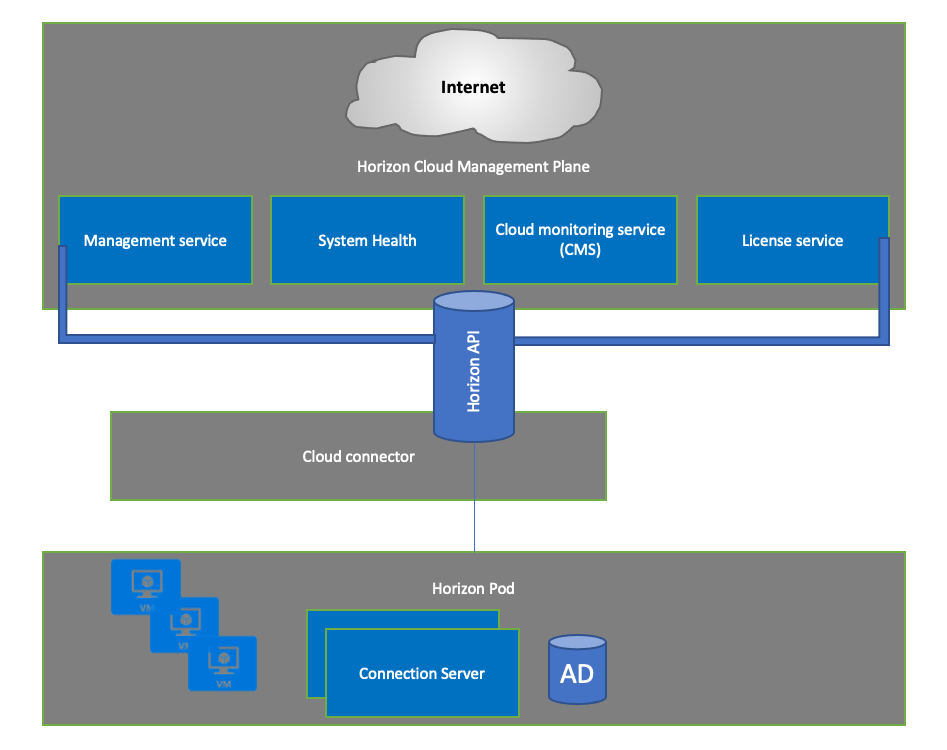 For Horizon Cloud on Azure you have to be aware of the services, Firewall ports and protocols which are required in general. You will find the requirements regarding the Horizon Cloud Pod in a very detailed overview here.
Now you are able to use the Horizon subscription license within your Horizon Pod which you connected with the steps above. You can but don´t have to use the cloud services with that Pod which are offered with the service additionally like monitoring etc. Make sure that your Horizon on-premise environment (Cloud connector) can communicate with the Horizon Cloud Management Plane because your subscription license will be check against the license service in the Horizon Cloud Management Plane for consumption check (sync of license information). This is an outbound connection from the Cloud connector to the Cloud Management Plane trough port 443 and have to be open all the time. No further need to activate any license. The subscription will automatically be activated after the pairing within 4 hours usually. You can check that in the Management Console if the subscription is in use.
1784 Total Views
3 Views Today